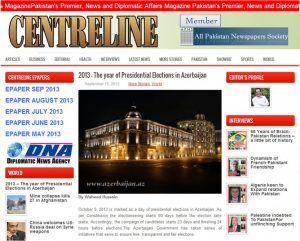 The presidential election held in Azerbaijan has been broadly highlighted by the Pakistani media.
Leading Pakistani newspapers, magazines, news agencies, radios and TV channel, including Navai Vakt, Jang, Daily Times, The News, DNA News, Lahor Times Radio Pakistan, PTV, Centreline and Diplomatic Star
has disseminated news about the election.
They noted the elections were monitored by over 52,000 observers, including 1,400 international ones from the international organizations such as OSCE, the Council of Europe, the PACE, the European Union, TURKPA, and CIS.
They also said Pakistani observation mission composed of 16 observers monitored the electoral process.
The Pakistani media hailed the organization of the election, noting more than 1,000 polling stations were equipped with web cameras to let internet users watch the ballot live.
They noted that election was held in a transparent and democratic way, and incumbent President Ilham Aliyev won over 84 percent of votes.
The meeting of the Pakistani delegation with President Ilham Aliyev after the election in Baku was also highlighted by the local media.
AZERTAC visitors may see articles published in the Pakistani media in the links showed below:
http://www.thenews.com.pk/Todays-News-2-207506-Azerbaijan-president-meets-Pak-delegation-after-victory-in-polls
http://www.dailytimes.com.pk/default.asp?page=2013%5C10%5C11%5Cstory_11-10-2013_pg14_1
http://e.jang.com.pk/10-11-2013/pindi/pic.asp?picname=53.gif
http://www.nawaiwaqt.com.pk/E-Paper/islamabad/2013-10-11/page-12
http://www.radio.gov.pk/newsdetail-55008
http://www.lhrtimes.com/2013/10/10/azerbaijan-president-says-he-wants-promotion-of-cooperation-with-pakistan-in-defence-and-trade-fields-202765/#ixzz2h6GH1wFD
http://dnanews.com.pk/2013/10/ilham-aliyev-sweeps-azerbaijan-presidential-election/
http://centreline.com.pk/?p=2715
http://www.diplomaticstar.net/ilham-aliyev-gathers-84-55-percent-of-votes-in-azerbaijani-presidential-election.html